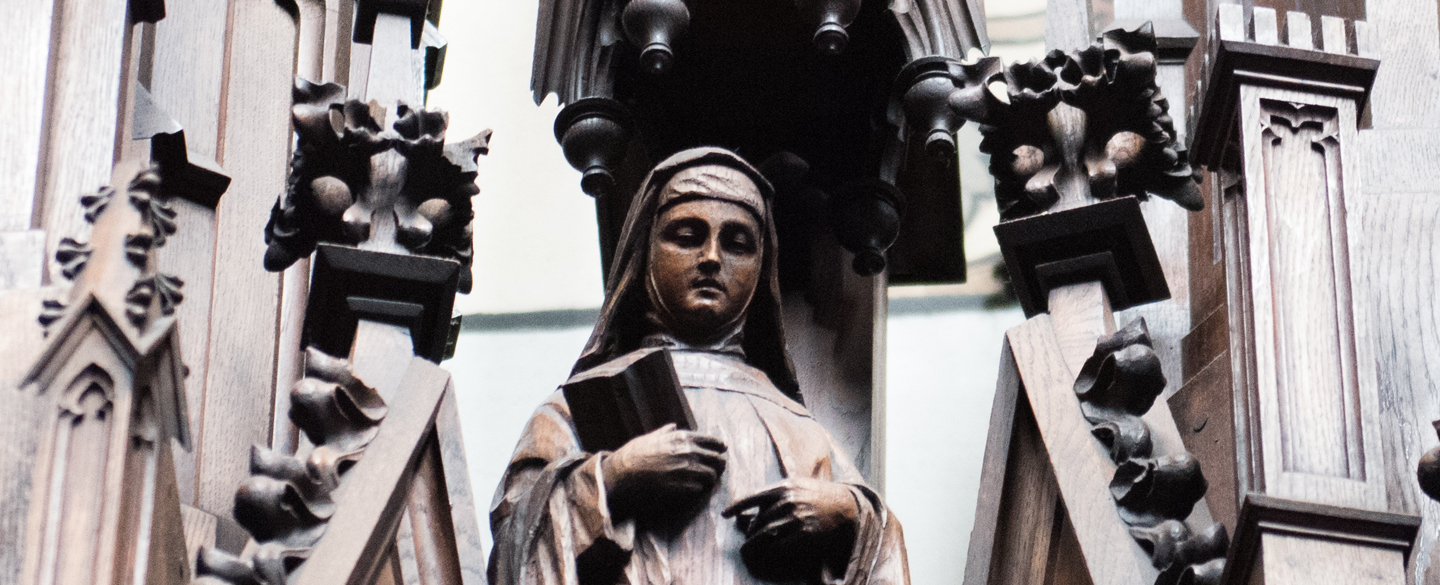 The first cloistered nuns of the Dominican Order are not necessarily as "famous" as their counterpart in other orders, such as St. Clare of Assisi; nor even as well-known as their own later Third Order sisters, St. Catherine of Siena and St. Rose of Lima. Yet there were, from the beginning, women whose prayers in the cloister supported the Holy Preaching. The best known of these is Blessed Diana d'Andalo of Bologna, a young woman whose life was touched by the three most famous friars of the new Order of Preachers. In his book, To Heaven With Diana, Gerald Vann writes, "Of her childhood we know nothing; but we know a good deal about her as she was when she first came into contact with the friars. She was of outstanding beauty. ...Her contemporaries also speak of her as eloquent and learned; and there is no doubt about her charm, her high spirits, her courage, and that faculty of making swift and sure decisions which, as one of her modern biographers remarks, is often found in women who have been brought up in the society of men. She was full of the joy of living…"
Around the year 1218 Diana was deeply inspired on hearing the preaching of Reginald of Orleans, and determined that there should be a monastery of Dominican nuns in Bologna. Diana made her desire known to the Dominican friars there, and when St. Dominic himself visited Bologna in 1221, she made a vow at his feet to establish a monastery, and to become a nun herself. Shortly thereafter, she fled by night to the Augustinian nuns, but was followed by her brothers, who brought her back to their home with such a struggle that some of her ribs were broken. Diana bided her time as her injuries healed. In 1223 she escaped again to the Augustinians. This time her family left her in peace. The new Monastery of St. Agnes was built in Bologna, and Diana was made the first prioress. Owing to her youth and lack of experience, however, she was soon replaced as prioress by Sister Cecilia Caesarini from St. Dominic's recent foundation at San Sisto in Rome. Almost exactly Diana's age, Sister Cecilia was already a more experienced nun. She was appointed by the new Master of the Order, Jordan of Saxony, who thought that a more experienced prioress would help build up the new Bolognese monastery.
Diana made her greatest contribution to the Order in saving all the correspondence that Jordan of Saxony wrote to her in the early years of the Order. He wrote variously about the unfolding history of the Order, the many novices who joined it, and his sorrow at the death of friends. Sometimes he served as her spiritual director. Without Diana's careful preservation of Bl. Jordan's letters, we would lack what was compiled as the Libellus, the single greatest source of early Dominican history. Diana died in 1236.
Commenting of Diana's holiness of life, Gerald Vann concludes, "Diana herself had her own very distinctive gifts; and as her religious life went on she learned with Jordan's help and guidance how to free them from what was imperfect in them, how to use them for her religious family's progress in goodness and peace and happiness, how to make them a more and more perfect offering to God from whom they came." Most significantly, Vann gives us from Père Hyacinthe Cormier, O.P., an insight into the grace which Bl. Diana came to personify in her living of Dominican life, that of perfect love.