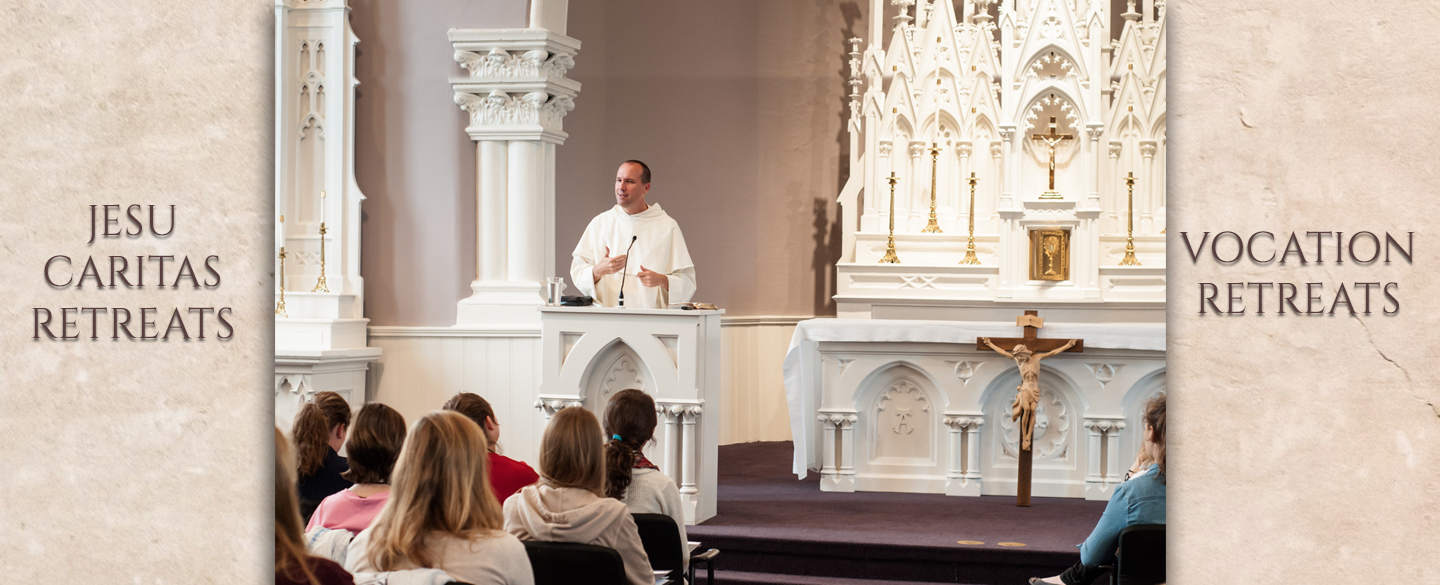 "Come and you will see." (John 1:39)
Retreats at St. Cecilia Motherhouse
At all Motherhouse retreats, our guests are treated to a monastic experience of prayer, attend retreat conferences, and have the opportunity for silence, the Holy Sacrifice of the Mass, Adoration of the Blessed Sacrament, and the Sacrament of Penance. These retreats are open to single, Catholic women, ages 17-30.
Jesu Caritas Retreats
October 2-4, 2020 This retreat will be offered online, instead of at the Motherhouse.
These weekend retreats explore different topics that are a focus within the Church, offering spiritual insight for those who love the Church. There are opportunities to speak with the sisters and to meet others who have an earnest desire for God.
Themes from some of our past retreats include the following:
"The Grace of the Present Moment"
"For Freedom Christ Has Set Us Free"
"Marian Joy"
"The Immeasurable Riches of His Grace"
"Perfect Love Casts Out Fear"
Vocation Retreats
January 7-10, 2021
March 4-7, 2021
These four-day retreats are designed for young women who are discerning their vocation and provide an opportunity for them to explore the life and charism of the Dominican Sisters of St. Cecilia. Those on retreat attend talks on St. Dominic, the spirituality of the Order, Marian devotion, the Divine Office, discernment and the formation process. Panels on vocations and the apostolate allow retreatants to hear testimonies and to ask questions. Retreatants join the Novitiate for recreation, visit with the retired sisters, and go on a tour of several schools of the Congregation.
How do I register for a retreat?
Contact Sr. Mara Grace, the vocation director, at 615.256.0147 or through email at vocation@op-tn.org.
*An interview with the vocation director is necessary before registering for the Vocation Retreat. Space is limited, so please register early.
For information about Days of Recollection and events hosted at our mission houses in the US, please click here.
For information about retreats and events outside of the US, please click on the below location: