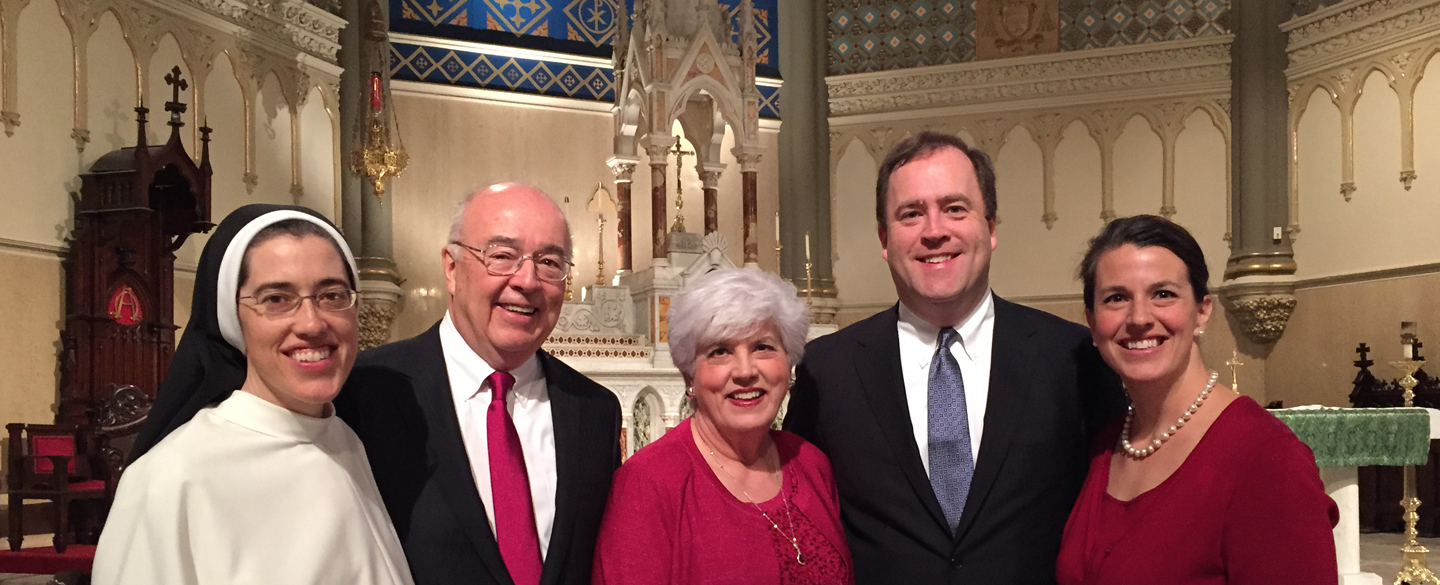 by Anne Husted Burleigh, mother of Sister Anne Catherine, OP
The eighth-graders fled up to the altar to be confirmed. After receiving the sacrament, each child was sent forth with an exhortation composed by the teacher to befit each one.
"Catherine Burleigh," said Mrs. Kennevan, "go forth to teach the Gospel to all the world." Hearing those words, I felt a small electric shock race down my spine. I should have known, but I did not.
When Gerard Manley Hopkins was the subject of Catherine's junior poet project at the University of Dallas, I should have known, but I did not. When three fourteenth-century English mystics were the subject of her master's thesis at the University of St. Andrews, I should have known, but still I did not because, as Catherine and her father and I knew without a doubt, she was destined to marry and have children. The mystery was not which vocation she would enter but which young man would show up to become her husband.
Mothers, however, have superhuman radar. Catherine was back from graduate school, teaching at a struggling but stalwart little Catholic school that had just opened its doors. A few months at the school confirmed that although teaching may be the hardest work in the world, it also is one of the noblest. Catherine discovered that teaching was to be part of her vocation.
Watching how Catherine fit into this milieu like a hand in a glove, it occurred to me that maybe, just maybe a religious vocation for her might be in bud. The very thought threw me into a panic, and so I doused it with silence on the subject. As a convert many years ago from Protestantism, I did not grow up being educated by sisters and so had very little knowledge of religious vocations for women. My assumption was that, with the exception of a good friend, most women religious had abandoned their foundational charisms and had left their dwindling orders. Such a life could not attract our daughter.
Nonetheless, our family did know something of a thriving order, the Nashville Dominicans who taught at a school in Cincinnati. We also knew of two or three University of Dallas alumnae who had become Nashville Dominicans, one of whom had been our Catherine's college roommate. "I really ought to visit the Nashville convent," said Catherine, "just to say that I did. I know I don't have a religious vocation, and a visit will prove it." Yes, I thought, a visit will indeed confirm that marriage is Catherine's true vocation.
The visit came and went. "It's really nice down here," Catherine's voice reported on the car phone, "but I know I don't have a vocation. I know I'm supposed to marry and have children." My heart rate returned to normal. Good, I thought. That's behind us.
I should have known, but I did not. A few months later Catherine made another visit. A few months more and she made yet another visit. By this time I was all ears to hear some revealing remark. And I heard. When Catherine spoke the words, "I think I may have a religious vocation," it was nothing but grace that allowed me to answer that we wanted her to follow wherever the Lord might lead her.
It would not be too much to say that the day of her entry into the Dominican convent of St. Cecilia, August 17, 1999, was the most emotional day my husband and I, and even Catherine's brother and sister, had ever experienced. That day, though, was a day of which I was absolutely sure. I had no doubts then and have never had doubts that Catherine was doing exactly what she ought to do in becoming Sister Anne Catherine, O.P.
Her choice of a vocation as a sister of St. Cecilia came gradually over a year and a half, if not longer; it came quietly, surely, and in total freedom. She wanted to give more; she wanted to give all. It was as simple as that. I knew she was right. I just did not know what to expect.
What we have found is something astonishing. Mysteriously, delicately, Sister Anne Catherine's vocation has become our family vocation. Her falling in love with the Lord and with her community has become our falling in love the Lord and with her Dominican family, which is now our family. Any fears that she would be wooed away from us were blown away in our first visit to the convent, where we were assured from the outset that the sisters love their families, from whence come their vocations in the first place.
It has been our experience that each visit to the Motherhouse is better than the last, and with each visit we, as well as Sister Anne Catherine, are more welcomed and loved by the sisters. When we see our daughter becoming not less but more of the lovely young woman she always has been, we rejoice with her. She has a blessed life, filled with grace.
Yet our biggest surprise has been that the grace of her vocation is not reserved to her. It spills over to us and makes us beneficiaries with her. The blessings that have come our way since her entrance into the religious life are too enormous for us not to believe and rejoice in that mercy. If Sister Anne Catherine is chosen, so, mysteriously, are we.
Sister Anne Catherine professed her perpetual vows on August 8, 2005.
Read A Father's Story, by William R. Burleigh, father of Sister Anne Catherine.