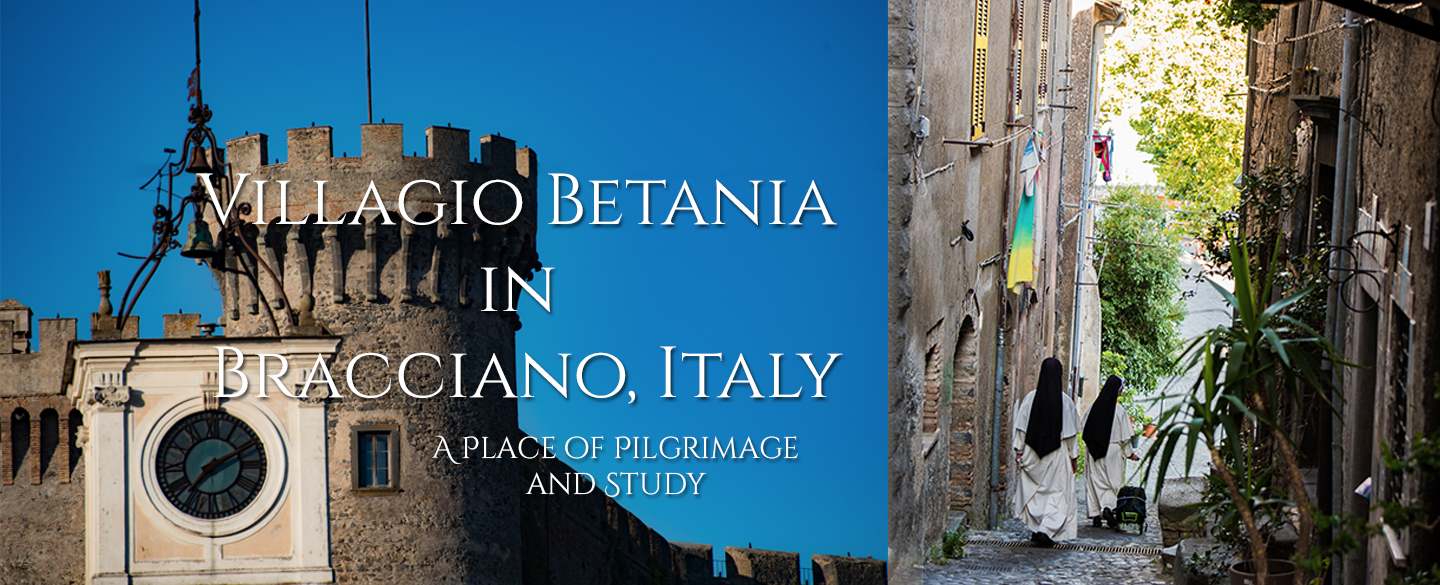 Rome will leave a deep and lasting mark on your soul, if you take advantage of your time here. And it will teach you to be more faithful children of the Church and to have a more supernatural love for the Holy Father. (St. Josemaria Escriva)
In 1969, the Dominican Sisters of Bethany of Venlo, Netherlands, opened the Villaggio Betania on land near to their home at St. Catherine Convent. From 1969-1999 the Villaggio Betania (Bethany Village), operated as a children's home welcoming children in difficulty and from troubled families. In addition to the resident children, the sisters also operated a day school and after school programs for the local children of Bracciano.
The vision of the sisters was to provide a home for the children and a place where they could love and be loved, a place where they could grow. The property consists of different casas, or small houses, where the children lived family style, a school building, a convent, a chapel, and large open yards in which the children could play. All of this with a view overlooking Lake Bracciano in one direction, and an historic castle in the other direction. Many of the children, now adults, maintain a deep friendship and connection with the sisters and the Villaggio Betania. They refer to themselves as the "ex-citizens" and recount beautiful stories of their days there with both tears and laughter.
In their own words they describe the Villaggio Betania in this way:
The Villaggio Betania was for many a starting point for a new life transmitted not only through learning, but also through love for one another, for nature, and for a new family. The Dominican Sisters of Bethany, with much sacrifice, nurtured and loved hundreds of children, educating them, comforting them, and above all giving them what they needed to feel like other children who were more fortunate to come from stable families.
There were never days of suffering, nothing was lacking from breakfast to dinner, there were warm beds and everything was in order from beautiful Sundays to days of student, from times of fun to prayer.
Casa Rosa and Casa Girasole were houses where love and family warmth were never lacking. Our Sisters were our guardians. They sacrificed themselves for us, as mothers, providing everything that we needed.
In 2013, the Dominican Sisters of St. Cecilia purchased Villaggio Betania and with it received the beautiful foundation of love and joy which the Dominican Sisters of Bethany had left to us. A small community of Dominican Sisters of Bethany still live nearby and continue to be a ready support to our sisters and to the new life taking shape at Villaggio Betania. Although no longer a home for children, Villaggio Betania continues to be a place of welcome, study, and encounter with the Lord.
Villaggio Betania has a two-fold mission. First, it is a religious house where the sisters can live Dominican life in the vicinity of Rome and engage in the apostolate of the community, both in Rome and in Bracciano itself.
Second, Villaggio Betania is a center for the New Evangelization, serving groups from the United States as well as those in Europe and the local community in Bracciano. At Villaggio Betania, the sisters are able to welcome groups for both overnight or day retreats and other activities. Pilgrim groups, who in addition to visiting the sacred places, wish to have time to learn about the sacred places to which they travel and to have a beautiful place in which to reflect and to pray upon their experience, are also welcomed.
Locally, the sisters are also involved in the local parish and the Diocese of Civita Castellana working with catechists, teaching catechism and helping with sacramental preparation, as well as being involved with both family groups and youth groups.
For more information about retreats or other events in hosted by our sisters in Italy, click here or email villaggiobetania@op-tn.org.