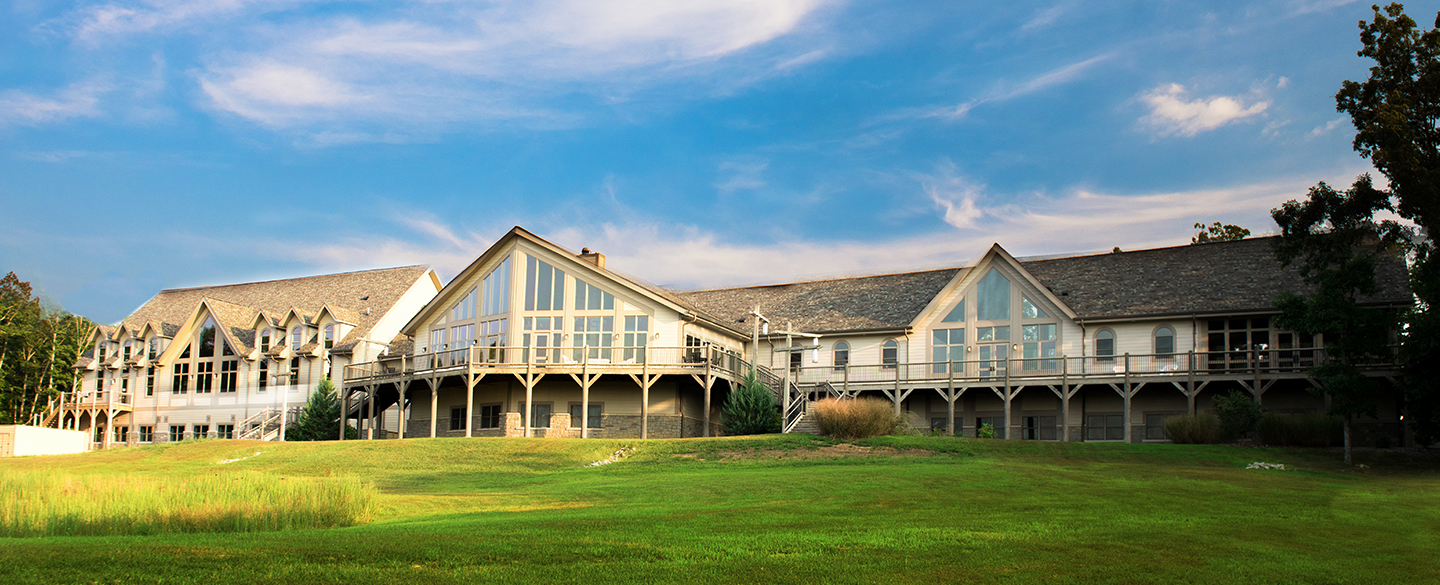 Come away for awhile. (Mark 6:31)

These words of Jesus are an invitation to spend time with Him, both in quiet personal prayer and in company with others. Knowing exactly what they need, the Lord calls his friends apart to a lovely and peaceful atmosphere of retreat.
In a culture that is fast paced and filled with pressures of many kinds, it is not only important but necessary to be mindful of God's presence; to take time to listen to Him, talk with Him; to come to know Him and to know ourselves. If we are to grow in our relationship with the Lord, a relationship which He Himself initiates and deeply desires, it is essential that we accept his invitation to "come away."
In the spirit of St. Dominic, and seeking to promote the Church's mission of the New Evangelization, the Dominican Sisters of St. Cecilia Congregation wish to make available just such a "place apart", through a retreat facility designed to fill the spiritual needs of those desiring to "come away for awhile" – whether laity, clergy or religious.
The sisters seek to provide an atmosphere conducive to a deepening relationship with God, so that retreatants might be more open to his grace in personal prayer, reception of the sacraments, spiritual conferences and quiet time for rest. Thus refreshed in body and soul, the faithful are better able to become a leaven within their families, in their workplaces, and in the communities where they live.
Construction of Bethany Retreat House was made possible by a gift of Gayle and Tom Benson of New Orleans, LA. The addition of Our Mother of Perpetual of Help Chapel and wing was realized through the major gift of an anonymous donor and contributions of many other generous benefactors. It is located about 40 miles west of Nashville on 72 acres of land in Dickson, Tennessee. The retreat house, completed in three phases, has 41 individual guest rooms, a large beautiful gathering space for reflection, and a new chapel that seats about 120.
Bethany Retreat House, owned and operated by St. Cecilia Congregation, plays an integral role in the community's apostolate of Christian education and its efforts in the New Evangelization. Bethany provides an atmosphere in which retreatants are able to reflect on their faith, on the presence of God in their personal lives, and on growth in their relationship with the Lord as they seek to live their vocations in the Church. Retreats are scheduled for parents, faculty, and staff of schools where the sisters serve, as well as for other groups sponsored by parishes or Catholic organizations known to the sisters. Additionally, the sisters themselves come to Bethany for ongoing formation retreats and days of renewal.
We are told in the Gospel that the Lord Jesus Himself went apart to Bethany for times of spiritual refreshment and rest. At Bethany Retreat House his friends may do the same, meeting Him there in silence, prayer, reflection, and especially in his sacramental presence.
"Come away by yourselves," He invites us," … and rest a while" (Mark 6:31).
RETREATS FOR WOMEN/MEN
Each of these retreats require registration through the group that is organizing the retreat. If you are interested in any particular one please email Sister Theresa Joseph at bethanyretreat@op-tn.org and she will put you in contact with the person organizing the retreat.
Unless otherwise indicated, the cost for a WEEKEND RETREAT: Friday evening (4:30 p.m.) through Sunday morning 11:30 is $200/person (as of July 1, 2020).
The cost for a DAY RETREAT: approximately $25; contact the organization offering the retreat.
May 13-16, 2021 Catholic Medical Association Men's Retreat: "Living in the Power of the Gifts of the Holy Spirit". Space is limited. Contact: Dr. Steve White, rswmd52@gmail.com
November 19-21, 2021 Bethany Retreat House Women's Retreat [Speaker to be announced] Space is limited. This retreat, only for women, is an opportunity for single or married women to have a weekend apart for conferences, silent reflection, Mass, Eucharistic Adoration, and confessions. Registration will begin Oct. 1, 2021. If you are interested please send your email address to Bethanyretreat@op-tn.org and request to be added to the mailing list for this retreat.
February 11-13, 2022 [note change in date as announced earlier] Bethany Retreat House Men's Retreat. Father Wade Menezes CPM will return for the Retreat for Men for 2022. This retreat, only for men, is an opportunity for single or married men to have a weekend apart for conferences, silent reflection, Mass, Eucharistic Adoration, and confessions. Registration will begin Dec. 15, 2022.
For more information about Bethany Retreat House or the retreats available for your consideration, contact the Sisters at bethanyretreat@op-tn.org.