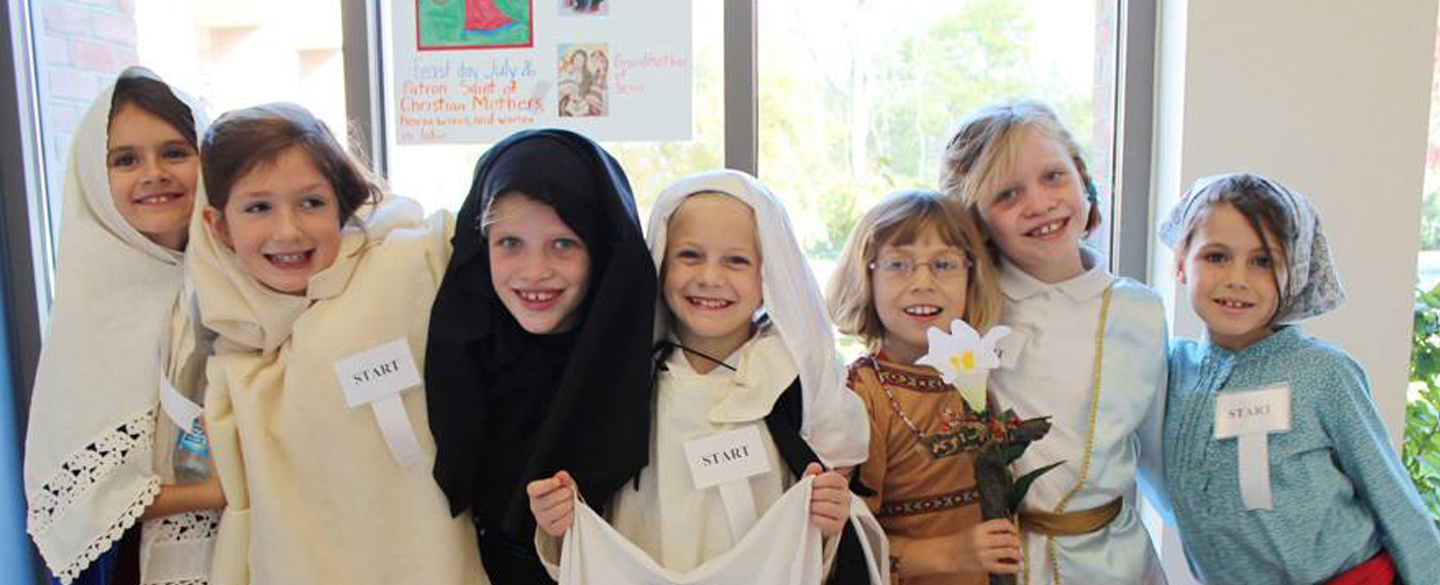 The Catholic school's task is fundamentally a synthesis of culture and faith, and a synthesis of faith and life: the first is reached by integrating all the different aspects of human knowledge through the subjects taught, in the light of the Gospel; the second is the growth of the virtues characteristic of the Christian." (Congregation for Catholic Education, The Catholic School 37)

Virtues in Practice is a program for children in grades pre-kindergarten through eight to grow closer to Jesus by imitating His life and virtues. It is set up in such a way that a whole school studies the same virtue each month, to provide a whole-school (and at home, whole-family) focus. The program covers 27 virtues over a three-year cycle, with 81 saints held up as models of the virtues.
Click the links below to download the components of the Virtues in Practice program for your use. Si vous souhaitez télécharger la version française du parcours Aimer et Pratiquer les Vertus, cliquez ici.

Vous serez redirigé vers la page francophone du site.
For more information, please follow the Frequently Asked Questions link below.
Thank you for using these materials. We pray that they are of great benefit to you and those whom you teach. God bless you.
Program-Overview
Frequently Asked Questions
Parent Guide
Parent Guide in Spanish: Virtudes en práctica:Guía para los padres
Year I: Year of Faith
FAITH PK-K Workbook
FAITH Gr. 1-2 Workbook
FAITH Gr. 3-5 Workbook
FAITH Gr. 6-8 Workbook
Year II: Year of Hope
HOPE Gr. PK-K Workbook
HOPE Gr. 1-2 Workbook
HOPE Gr. 3-5 Workbook
HOPE Gr. 6-8 Workbook
Year III: Year of Charity
CHARITY PK-K Workbook
CHARITY Gr. 1-2 Workbook
CHARITY Gr. 3-5 Workbook
CHARITY Gr. 6-8 Workbook
For questions related to the Virtues in Practice program, of if you are interested in an in-service on this program, please contact VirtuesProgram@op-tn.org.