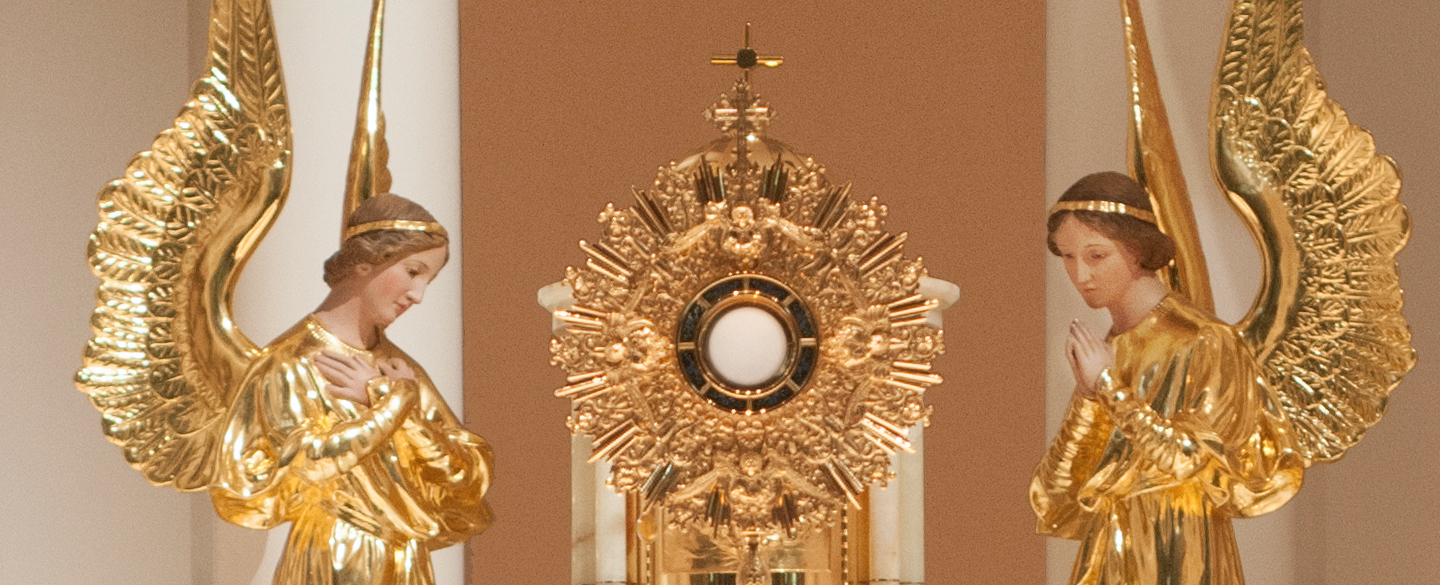 As a community the sisters give honor to the Holy Eucharist by frequent exposition of the Blessed Sacrament and Benediction. (Constitutions of the Congregation)
The St. Cecilia Dominican enjoys many opportunities for Eucharistic Adoration when He is exposed on our altar. Of course we can pray no less when the Sacred Host is reserved in the tabernacle; however, exposition of the Blessed Sacrament in a beautiful monstrance engages our senses as well as our higher faculties, drawing another level of our being into prayer.
On school days after Mass, the Blessed Sacrament is exposed until noon. Those who are not out teaching or doing other work enjoy some time each morning to adore the Lord and pray for the success of our apostolic labors. This task is a special love of our older sisters who have spent fifty or more years of their religious lives working to bring Christ to many souls. Now they bring those souls to Christ in prayer and entrust them to his loving care.
In addition to daily exposition in the morning and then again in the afternoon prior to Vespers, each Sunday afternoon the Blessed Sacrament is exposed for a special Holy Hour. As a capstone to the Dies Domini (the Day of the Lord), the sisters adore the Lord and ask His blessing on the endeavors of the next week. This Holy Hour ends with Vespers and the Rosary, and culminates in Benediction, as the sisters receive the Lord's blessing at the hands of the priest.
Two additional days each month are dedicated to adoration of the Blessed Sacrament. The First Friday of each month is traditionally celebrated as a day dedicated to the Sacred Heart of Jesus. This devotion has always been linked to that of the Holy Eucharist and all day Eucharistic Adoration. The Third Sunday of each month is the sisters' retreat Sunday. Silence in the house for the entire day is the backdrop for the "work" of the day: the sisters take their turns at the prie-dieux before the altar, adoring the Eucharistic Lord.
As the sisters look to the Lord in the monstrance, they see Him surrounded by images of angels, themselves adoring the Divine King. Our tabernacle is itself flanked by two angels, representations of those who are in constant adoration of the Eucharistic Lord. These angels remind us that while we cannot always stay here in our chapel, as the Lord calls us to do his work in the world, we can imitate them in being ever mindful of the Lord's presence in our souls by grace, and in the souls of all to whom we are sent.