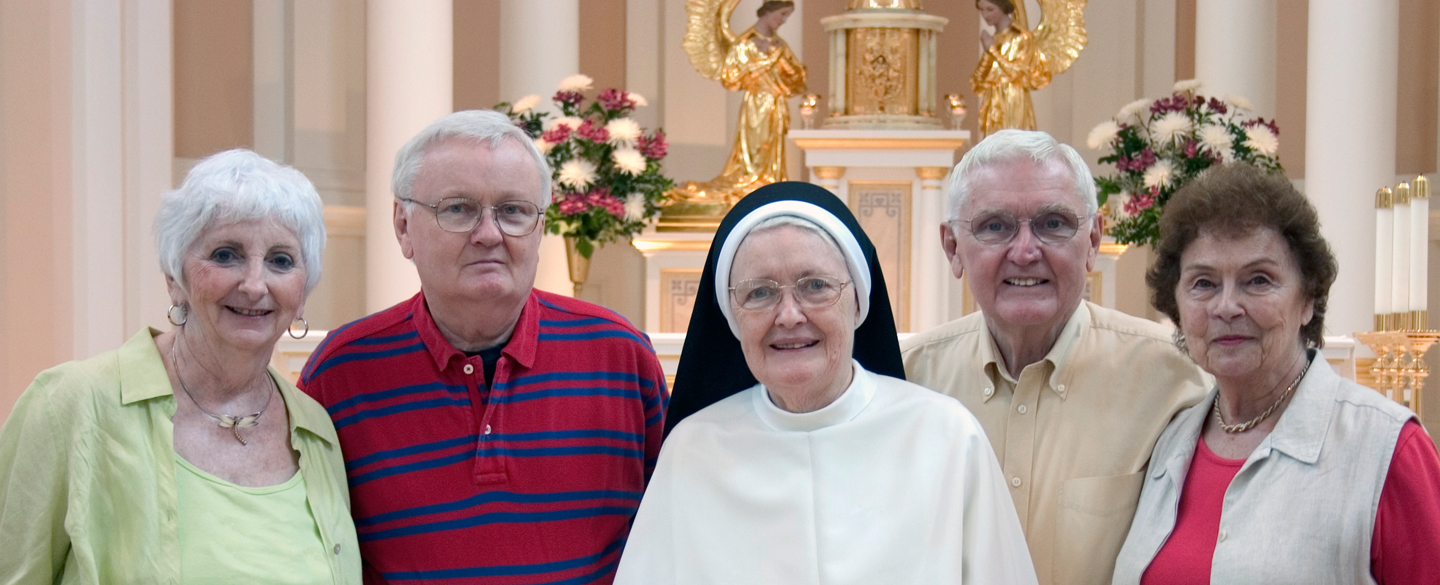 Following Him with Fidelity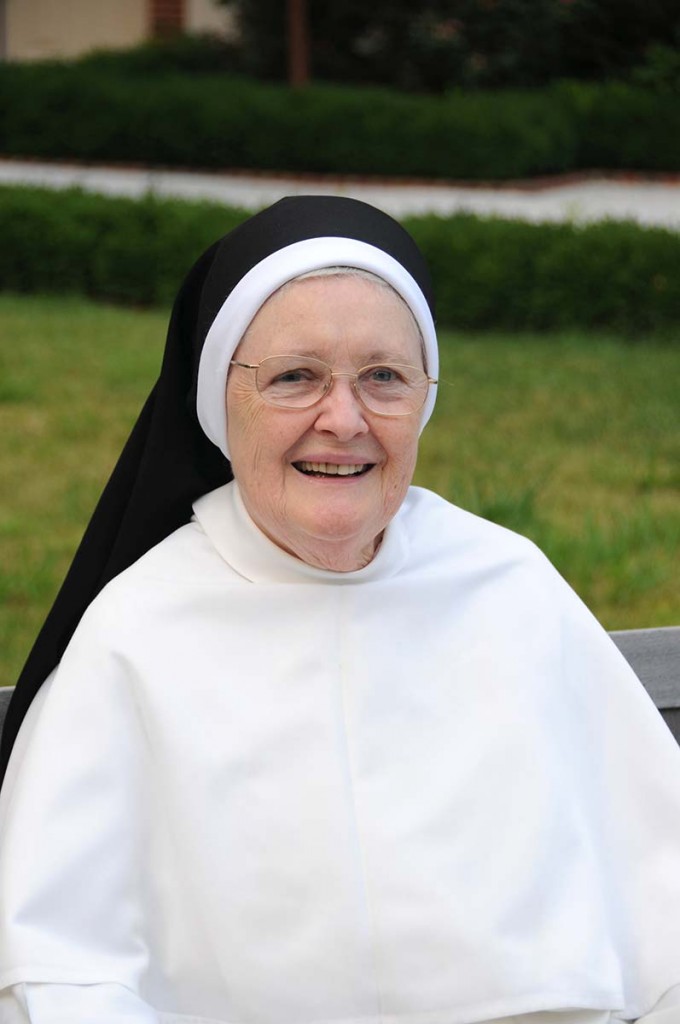 When one considers the character of Sister Mary Bernard, there are three gifts which stand out as most notable. She possesses an "insightful" sense of human nature, a keen intelligence, and a strong sense of loyalty. After fifty years of fidelity, Sister Mary Bernard understands what the Church asks of us in the living of religious life. While several sisters took part in drafting the present Constitutions of our Congregation, Sister Mary Bernard was the principle writer. In the years following the Second Vatican Council, Sister's contributions were characterized by a certain directness, and in many instances she acted with courage and conviction. Now, as we prepare to celebrate her Golden Jubilee, we express our gratitude for her witness of religious life.
The Curran family was deeply Catholic. Irish by way of Scotland, they were taught by word and example to love their Catholic faith and to respect the religious beliefs of others. Placed under the patronage of Our Blessed Mother, the only girl born into this family was baptized "Mary," a name she would grow to emulate.
Young Mary's first contact with religious was with the Sisters of the Resurrection in Yonkers, New York. Home, however, soon became Hampton, Virginia, where the Dominican Sisters of St. Cecilia taught. She and her brothers Bernard and Robert attended St. Mary Star of the Sea School. Around the Curran dinner table the names of sisters became household words: Sister Mary David, Sister Loretta, Sister Emmanuel, Sister Joan of Arc. It was the happiness of these sisters that most impressed this grade school student. The expression of this happiness in their religious lives caused her to consider becoming one of them herself. While in school, her brother Bernie encouraged her with the idea and once suggested, "Why don't you try it? They go for three years at first—to see if they like it." Exposure to the faith both at home and at school began the process, but ultimately, in the words of Sister Mary Bernard, "it was a strong sense of the love of Jesus, the love He had for me, that attracted me. The life of a sister seemed to me the ultimate response."
Her first two years of high school were at St. Mary Star of the Sea and the last were spent at St. Vincent's (now Peninsula Catholic). While her social life was an active one, Mary's focus became more defined the day the principal asked if she had considered a religious vocation. Moved at the thought that someone else could see her "good enough" for such a life, she sought a priest for confession and afterwards knelt in the back of a dark Church. In the presence of the Blessed Sacrament in view of a painting of Our Lady giving Dominic the Rosary, Mary Curran felt the call to be a sister.
The time was not right, however, and so college came before entrance. Mary attended Nazareth College in Kentucky where the sisters there encouraged her vocation. While the Sisters of Charity were expecting a hundred postulants to enter there, Mary journeyed south to Nashville to see a formidable group of five (including Sister Mary Richard and Sister Mary Leonard) receive the habit. Before returning to Kentucky, the young aspirant found herself in Mother Annunciata's office with an application in hand. On the feast of St. Augustine, she returned to St. Cecilia Motherhouse, this time to stay.
The years that followed were filled with study, teaching, writing and leadership in the Congregation. Sister Mary Bernard received a BA in English from Peabody in Nashville, an MA in English from De Paul University in Chicago and a licentiate in philosophy from Catholic University. True to her identity as a Dominican, Sister completed her studies and defended her thesis for a doctorate in philosophy.
Her teaching assignments have ranged from first grade to college level, including some time as an administrator, fourteen years teaching English and philosophy at Aquinas College and several years as an English teacher at St. Cecilia Academy. She has also served as an instructor for the Catholic Home Study Program. In 1993 Sister wrote a book entitled Thinkers through Time. She has written articles for the Encyclopedia of Monasticism on "Monastic Prayer." Sister Mary Bernard has lectured on various topics including mystical prayer, as well as issues of philosophy and culture.
Sister Mary Bernard's contributions to ongoing formation within the community have been significant. Over the years she has authored a number of community studies designed for the assimilation of various Church documents, such as the Gospel of Life, The Catechism of the Catholic Church, Fraternal Life in Community and Vita Consecrata. Sister was one of the principal writers of the Congregation's Ratio Institutionis: Program of Initial and Ongoing Formation.
Sister Mary Bernard professed her perpetual vows in 1953.
Sister Mary Bernard passed on to eternal life in 2017.