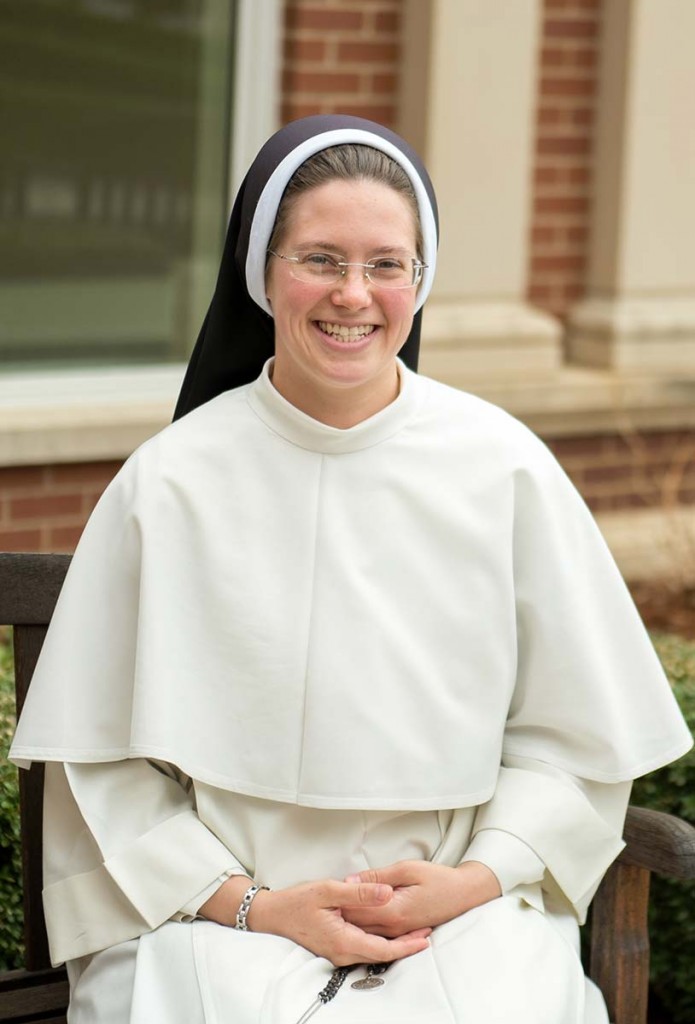 "This homework assignment might have eternal consequences!" These words from Sister Anna Laura, my seventh grade teacher at St. Gertrude School in Cincinnati, filled me with intrigue. "What could she possibly ask us to do this weekend as twelve-year-olds that was so important, but so personal that she promised not to grade us or even ask if we had done it?" I wondered. "And 'eternal consequences'…that means it could affect me forever!"
"Pray one Our Father, Hail Mary, and Glory Be tonight. If you're really brave, do it every night this weekend," Sister said. "Ask the Lord to bless your future spouse, or if He wills, to give you the grace of openness to a religious vocation."
I was now in awe…Sister had invited us to pray. She had consistently given us the witness of a deep faith that God desires to be intimately involved in each of our lives. But now she called us to welcome Christ's loving plan into our lives in a new and profound way.
As I lay in bed that night, Sister's words echoed in my memory as I did our "assignment." More importantly, however, my heart was touched by an encounter of God's love for me. In those simple and familiar prayers, I chose to be open to the Lord speaking to me. For the first time, the possibility of becoming a religious sister seemed to be something to which God might be inviting me. I wondered what God had in store for my life and joyfully awaited how He would uncover the mystery. As the years passed, I kept the love of Christ as the greatest treasure in my heart and pursued every means I could to grow deeper in my faith, to become more active in my parish, and to remain faithful to God's will in my daily life.
The thought of a religious vocation remained somewhere in the back of my mind throughout high school, but I was not always delighted with the idea. Even as I prayed that God would send me "signs" to show me his plan, I hoped that I would somehow miss them, because I was afraid of the great sacrifices He might ask. Trying to ignore the great things He was asking did not work, however, because I knew deep down that I did desire to live entirely for Him. I knew that true peace and joy could only be found in following God's plan for my life.
While in high school, I visited the Dominican Sisters of St. Cecilia at their convent across the street from St. Gertrude Parish and School and joined them for prayers. I was captivated by the beauty and simplicity of their life of consecration. The secret of the source of their joy and authentic charity could be found there in their chapel and in their common life together. As a student of the sisters, I had seen them "in action" in the midst of their apostolate of education. In addition to teaching me about Narnia, frog dissection, early Church martyrs, and the Rosary, they built on the strong foundation of faith that my family had given me and taught me to see God's loving plan in everything. It was clear that the sisters had a special way of loving each student and family and helping us live true Christian lives by their own example. Only when I visited them in their convent, though, did I glimpse the hidden life of deep prayer that animated them in all things. This wonderful balance of the contemplative and apostolic life stirred up the desires of my heart as I continued to pray about my vocation.
I came to the Motherhouse in Nashville for the first time as a senior in high school and felt Christ's call gently in my heart. However, I sensed it was not yet time to enter, so I enrolled at Franciscan University of Steubenville, Ohio. While there, I studied theology and catechetics and was involved in the Dominican-inspired women's household, Beloved First Truth. I sought opportunities for daily prayer and found myself in an environment that deepened my knowledge and love for Christ. My experiences at Franciscan University fostered my vocation, instilling a desire to give my "yes" to the Lord who had always loved me extravagantly!
Words cannot describe the joy I received from entrusting myself entirely into the hands of the One who has loved me faithfully from all eternity! Now as I strive to live my consecration more deeply and to prepare for the classroom, I desire to lead my students to knowledge and love of Christ following the example of the sisters who helped form me as a child. Through this journey, I have discovered that God uses even the ordinary things, like a homework assignment, to accomplish wonders in our lives!
Sister Marie de Lourdes professed her first vows in August 2014.